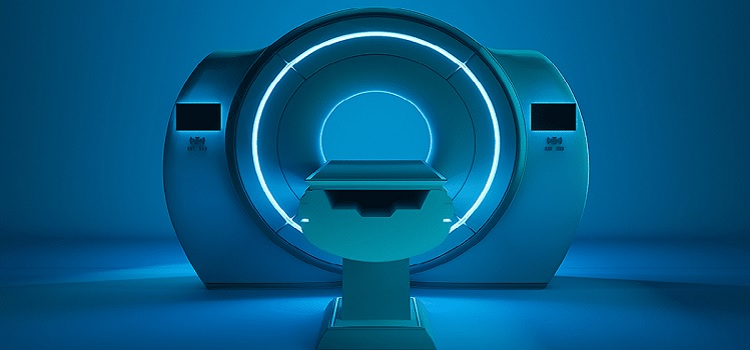 A Comprehensive Guide to the MRI Industry
Introduction
The magnetic resonance imaging (MRI) industry is rapidly growing in the field of medical science. It uses magnetic fields and radio waves to produce detailed images of the internal structures of a human body. These images can be used to diagnose and monitor a wide range of medical conditions including cancer, heart disease, and neurological disorders. The MRI industry is driven by advances in technology, such as the development of powerful magnets and improved software for image analysis, as well as increased demand for diagnostic imaging services.
According to Next Move Strategy Consulting, the global MRI Market size was valued at 7.26 billion U.S. dollars in 2021. It is predicted to reach 12.19 billion U.S. dollars by 2030 due to factors such as development of functional MRI (fMRI), diffusion tensor imaging (DTI), and magnetic resonance elastography (MRE), that increases the accuracy of MRI diagnosis. Moreover, increasing focus on the replacement of low-field MRI systems with high-field MRI systems as it provides higher image quality along with shorter scan time is further driving the growth of the market.
What can be detected by an MRI scan?
An MRI scan can detect a wide range of conditions and abnormalities, including tumors, inflammation, bleeding, and structural problems in the brain, spine, joints, and other organs. It can also be used to visualize blood flow, detect blockages in blood vessels, and assess the extent of damage caused by a stroke or other neurological conditions. MRI scans do not use ionizing radiation, making it a safer alternative to other imaging techniques such as X-ray and CT scans.
Additionally, an MRI scan can be used to evaluate the success of earlier interventions, such as surgery, radiation therapy, or chemotherapy. By comparing the results of an MRI scan, healthcare professionals can determine if the treatment has been effective and make adjustments after the completion of a surgery.
Key Market Players and How They Are Dominating the MRI Industry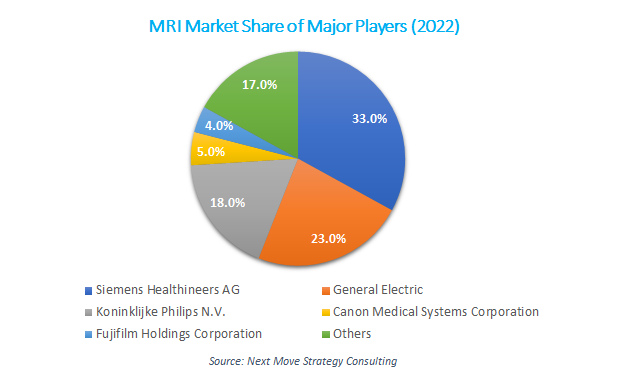 Leading players operating in the MRI market includes Siemens Healthinners AG, General Electric, Koninklijke Philips N.V., Canon Medical Systems Corporation, Fujifilm Holdings Corporation, and Others.
The following are some of the industry-Impacting Developments that have occurred recently:
AI & MRI: The incorporation of artificial intelligence (AI) into MRI systems is anticipated to have a transformative effect on medical imaging. AI in MRI systems refers to the use of computer algorithms and machine learning to analyze large amounts of data and identify patterns or anomalies that may be difficult for human operators to detect. AI can also speed up imaging procedures, reduce artifacts due to patient motion, which further helps radiologist to render accurate diagnoses. Moreover, AI is being developed to reduce the dose of contrast agents that may be left behind in the body after MRI exams.
Leading market players such as General Electric, Philips N.V. and Canon Medical Systems are leveraging AI and launching their new products globally. For instance, In July 2022, Canon Medical Systems announced the launch of its Vantage Fortian MRI scanner, which features a range of advanced imaging technologies, including advanced motion compensation and AI-powered noise reduction. Moreover, in In November 2022, GE Healthcare announced the launch of a new software platform for MRI scanners called SIGNA Experience. The platform uses AI and deep learning algorithms to improve image quality and reduce scan times
Introduction of .55T MRI: Traditionally, a field strength of 1.5T or higher was believed to be necessary to obtain a high-quality MRI exam. However, recent advancements in MRI technology have proven this incorrect with the introduction of .55T MRI, also known as High-V MRI. High-V MRI, or high-field strength magnetic resonance imaging, refers to MRI scanners with a magnetic field strength of 3 Tesla (T) or higher. Compared to lower-field strength MRI scanners, high-V MRI offers several benefits that can improve diagnostic capabilities. It is able to provide enhanced imaging of metal implants, which has historically been challenging with conventional MRI systems due to the resulting artifacts. High-V MRI offers intrinsic physical advantages that reduce metal distortions, thus leading to improved diagnostic capabilities for implant imaging.
Moreover, High-V MRI reduces susceptibility artifacts, which are a well-known phenomenon in MRI. This reduction leads to fewer geometric distortions in diffusion imaging, resulting in improved diagnostic quality. In addition, High-V MRI's unique field strength is ideal for expanding the reach of pulmonary MRI capabilities. Several high-field MRI systems have recently been introduced to the market and have significantly outperformed traditional MRI systems. For instance, In November 2022, Siemens Healthineers announced the launch of two High-V MRI scanners called 7 Tesla (T) Magnetom Terra.X1 and 3T Magnetom Cima.X2 for clinical and scientific use. They are able to provide high-resolution images and detect even the smallest lesions.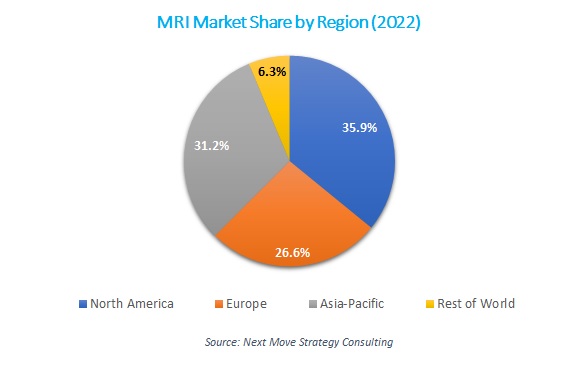 The North American region comprises of the U.S., Canada, and Mexico and holds the largest market share of 35.9%. This is due to the high prevalence of chronic diseases such as cancer, diabetes, and cardiovascular diseases in North America. According to the New York State Health Department, Coronary heart disease (CHD) is the most common type of heart disease in USA that causes around 697,000 deaths every year. Such diseases require ongoing monitoring and diagnostic imaging, including MRI, which is in turn driving the demand for MRI procedures in the Region.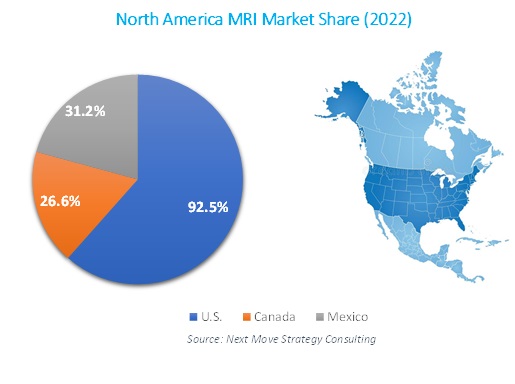 The U.S. holds the highest share of MRI market in North America, that accounted for 92.5% share in 2022 and is expected to continue its dominance throughout the decade. For more detailed overview of other regions, you can inquire at our website.
On the basis of product type, the MRI market is segmented into Open MRI systems and Closed MRI systems. Open MRI (Magnetic Resonance Imaging) machines use magnets for taking images of the internal parts of the body. It uses a magnetic bottom to reduce the risk of panic attacks and claustrophobia that help to diagnose body condition accurately.
Increasing incidences of emergency cases related to brain and other body parts are expected to drive the open MRI (Magnetic Resonance Imaging) market. On the other hand, Closed MRI systems have a tube-like tunnel with a magnetic field of around 1.5 to 3.0 tesla or above to generate a detailed image of the organs.
A closed MRI system is used in screening and diagnosis of brain, cardiac, spine, breast, or abdominal abnormalities. Rising awareness about the benefits of closed MRI over X-ray and other imaging techniques using harmful radiation is expected to propel the growth of the closed MRI system market.
Opportunities in MRI Industry
The introduction of Hybrid MRI Systems generates ample opportunities for the MRI market players. Recent developments in hybrid MRI technology are expected to support future clinical workflows, as they can offer better image quality, faster exam times, and improved throughput.
Moreover, with the advancements of novel system designs with improved image quality, higher throughput, and new scanning techniques, MRI technology will continue to advance and redefine diagnostic imaging.
Furthermore, compared to legacy systems, the newer MRI systems can operate safely when operated with extra caution and diligence, specifically while employing heavy-duty scanning techniques such as DTI or DCE.
About the Author: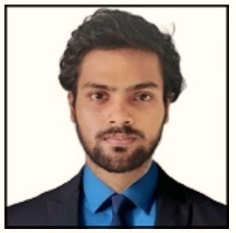 Shankar Nishant is a researcher at Next Move Strategy Consulting with a cumulative experience of more than four years. Shankar is enthusiastic about new technologies and enjoys working with a diverse range of global clients; and has delivered numerous market reports in the Life Sciences & Healthcare domain. He can be reached at shankar.dutta@nextmsc.com
Share this post?