The Global Allergy Diagnostics and Therapeutics Market size is estimated to be USD 34.08 billion in 2019 and is predicted to reach USD 63.36 billion by 2030 with a CAGR of 5.8% from 2020-2030. Worldwide, number of people are affected with allergic diseases such as anaphylaxis, food allergies, forms of asthma, conjunctivitis, eczema, eosinophilic disorders, and drug & insect allergies. The incidences and prevalence of these diseases are increasing significantly, particularly in the low and middle income economies. Thus, especially in children and young adults the severity and complexity of allergic diseases continue to increase, who are bearing the greatest burden of these trends. It is essential for patients to receive an accurate diagnosis and treatment.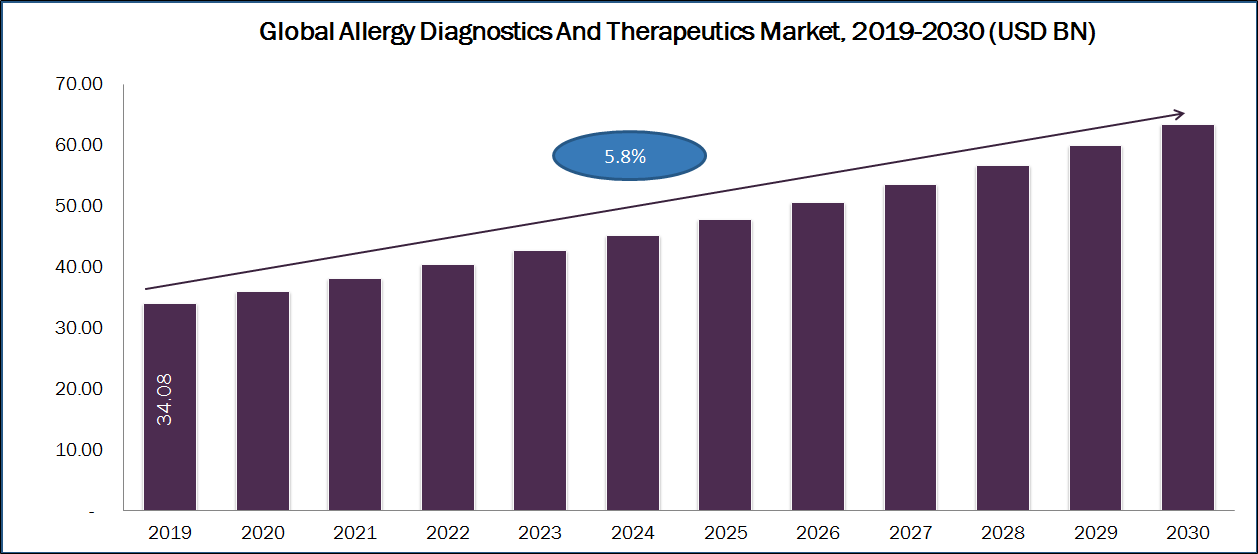 The social and economic impact of allergic diseases is large, including costs of health care, lost work and school hours, and lower quality of life. According to the data published in World Allergy Organization Journal in 2015, globally 300 million people suffer from asthma and about 200 to 250 million people suffer from food allergies. 400 million of the population suffers from rhinitis and one tenth from drug allergies. This large number of people suffering with allergic infections drives the demand for appropriate and affordable diagnostic and therapeutic alternatives.
Market Dynamics and Trends:
The increase in the prevalence of allergies is observed as societies become more prosperous and urbanized. An increase in environmental risk factors like outdoor and indoor pollution like tobacco smoke combined with reduced biodiversity also contributes to this rise in prevalence. Apart from increasing prevalence and large economic burden of allergic conditions, changing lifestyle, increasing indoor and outdoor pollution, and development of technologically advanced diagnostic and therapeutic products are expected to fuel the growth of the market. However, lack of knowledge about products available, and affordability of the diagnostic instruments and tests can act as hindrances to the growth of this market.
In the field of Allergology, recombinant technology has brought tremendous advances in allergen characterization and vaccine development. These advances have brought improved opportunities for innovation in diagnostic and therapy of allergic diseases. In April 2018, Omega Diagnostics signed a global distribution deal for its allergy testing kits, writes Kevin Scott. Similarly, other companies and laboratories such as Omega Diagnostics, AllerGenis, and Well Source Nutraceuticals are collaborating and developing new techniques for diagnosis and treatment of allergic conditions. Such developments are expected to flourish in further technological innovations in allergy diagnostics and therapeutics market.
Market Segmentations and Scope of the Study:
The global Allergy Diagnostics and Therapeutics Market share is analyzed on the basis of product, allergen type, test type, end users. On the basis of product, the Allergy Diagnostics and Therapeutics market is segmented into instruments, consumables and services. The allergen types include food allergens, inhaled allergens, drug allergen and others. Diagnostic tests covered in the report includes in vivo and in vitro tests. On the basis of end user the is segmented into diagnostic laboratories, hospitals, research laboratories and other end users. The allergy therapeutics market is segmented on the basis of the various drug class. The geographical segmentation covers North America, Europe, Asia Pacific, and Rest of the World.
Competitive Landscape
Comprehensive competitive analysis and profiles of major market players such as bioMerieux, Danaher Corporation, Thermo Fisher Scientific, Staller genes Greer, Hitachi Chemical Diagnostics, Siemens Healthcare, Omega Diagnostics, Hycor Biomedical, Lincoln Diagnostics, and HOB Biotech Group is also provided in this report.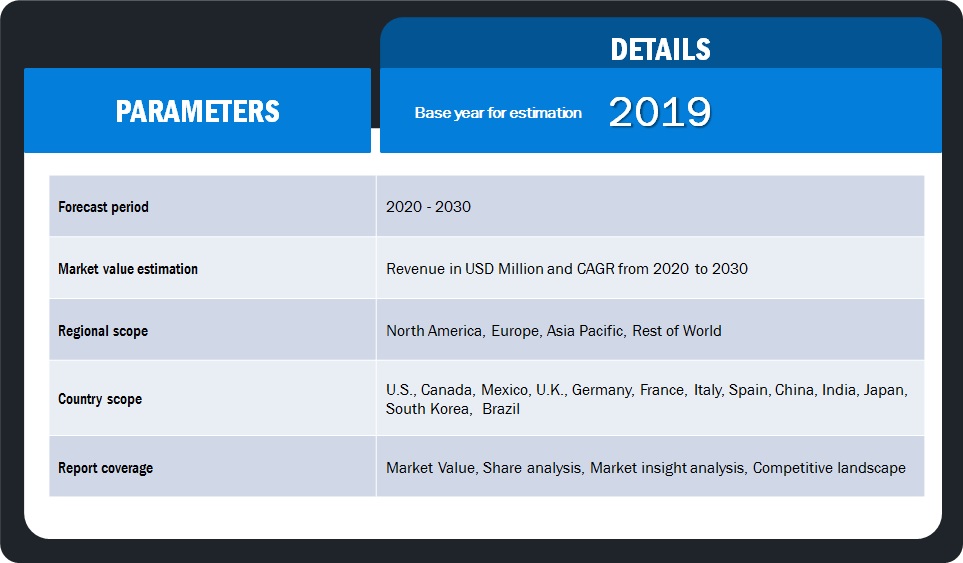 KEY BENEFITS
The study provides an in-depth analysis of the allergy diagnostics and therapeutics market with current and future trends to elucidate the imminent investment pockets in the market
Current and future Allergy Diagnostics and Therapeutics Market trends are outlined to determine the overall attractiveness and to single out profitable trends to gain a stronger foothold.
The Allergy Diagnostics and Therapeutics Market report provides information regarding key drivers, restraints and opportunities with impact analysis
Quantitative analysis of the current market and estimations through 2018-2030 are provided to showcase the financial caliber of the market
Porters Five Forces model and SWOT analysis of the industry illustrates the potency of the buyers & suppliers participating in the market
Value chain analysis in the report provides a clear understanding of the roles of stakeholders involved in the value chain
KEY MARKET SEGMENTS:
Global Allergy Diagnostics and Therapeutics Market – By Product
Immunoassay Analyzers
Luminometers
Elisa Analyzers
Other Instruments
Global Allergy Diagnostics and Therapeutics Market – By Allergens Type

Food Allergen
Inhaled Allergen
Drug Allergen
Others

Global Allergy Diagnostics and Therapeutics Market – By Test Type
Skin prick test
Intradermal test
Patch test
Global Allergy Diagnostics and Therapeutics Market – By End User

Academic Research Institutes
Hospitals and Hospital-based Laboratories
Diagnostic Laboratories
Others

Global Allergy Diagnostics and Therapeutics Market – By Drug Class

Antihistamines
Corticosteroids
Mast Cell Stabilizers
Leukotriene Inhibitors
Nasal anticholinergics
Decongestants
Immunomodulators
Auto injectable Epinephrine
Immunotherapy
Others

Global Allergy Diagnostics and Therapeutics market – By Geography

North America
Europe

Germany
France
UK
Rest of Europe

Asia-Pacific

Japan
China
India
Australia
Rest of Asia Pacific

RoW

Latin America
Middle East
Africa