The Global Biosimilars Market size is estimated to be USD 10.54 billion in 2019 and is predicted to reach USD 263.57 billion by 2030 with a CAGR of 34.0% from 2020-2030. Biosimilars are exactly what its name implies. These are biologics that are similar to other biologic drug that is already present in the market. Any differences between the reference drug and the biosimilars can impact the quality, safety and efficacy of the medicine. As generic medicines are synthesized to make identical to the reference medicine, biosimilars cannot be synthesized in that way due to their complexities. Hence, the process of manufacturing generic medicines cannot be applied in manufacturing biosimilars.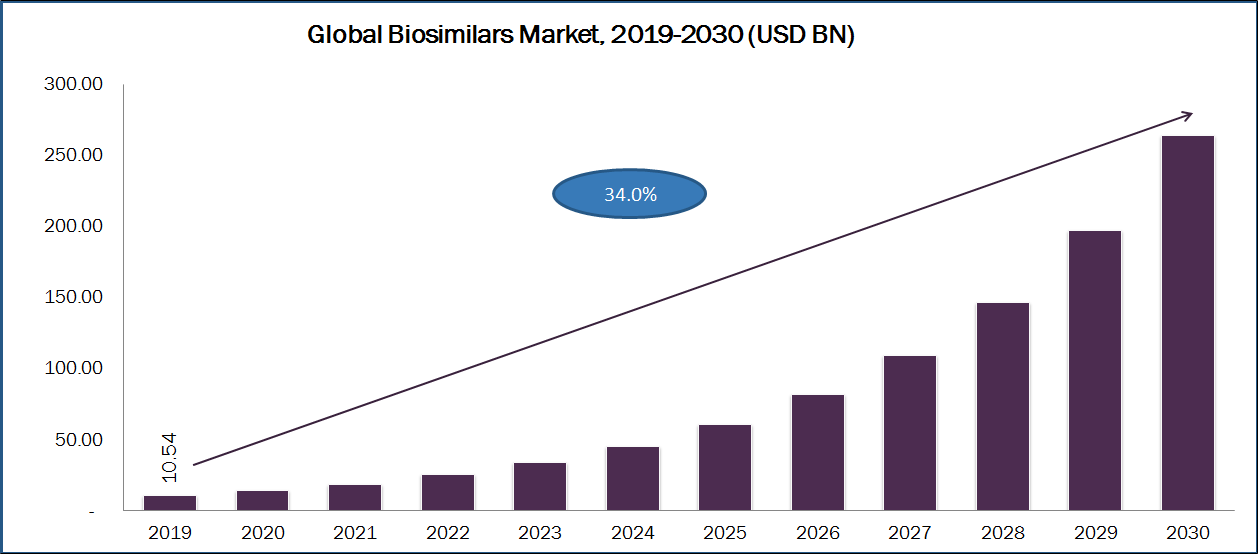 Biologic medicines are a significant part of modern healthcare. Even a slightest change in the manufacturing process of these medicines might lead to variations in the final medicine produced. Hence, in order to get approval for the biosimilars produced, it is extremely important to prove that the drug is highly similar to an already approved biologic drug. To develop such highly similar biologics companies have to undergo rigorous research and development activities. Biosimilar manufacturers realise that to compete in this market it is important to provide improved products. Some of the improvements that manufacturers need to focus on include improved expression systems, higher titers to reduce capacity requirements, and better assay methods to permit process monitoring, and product characterization. These modifications help the manufacturers in developing cost effective products and enhance their revenue in the biosimilars market.
Market Dynamics and Trends:
Governments across the globe are encouraging development of biosimilars in order to reduce healthcare cost. Recently, the Indian government as launched a new biosimilar policy called the Guidelines on Similar Biologics. This policy is prepared by the Central Drugs Standard Control Organization (CSDCO), and is expected to give a major boost to the Indian biosimilars industry. Such activities are opening new revenue pockets in the global biosimilars market. Additionally, increasing prevalence of chronic diseases such as diabetes, cancer, growth hormone deficiency, and anemia enhances demand for innovative therapies like biosimilars. This has resulted in increased demand for cost-effective biosimilars. On the other hand, the high initial investment in research and development, stringent regulations in developed economies, and medical efficacy and patient safety are likely to hinder the market growth.
Most of the leading and emerging players in the biosimilars market are adopting research and development as their primary development strategy. Based on this various new products are being approved and launched in the market. For instance, in November 2018 Epoetin alfa-epbx the biosimilar to epoetin alfa was launched in the US and Humira biosimilar was launch in Europe in October 2018. Such product developments and launches create a competitive environment in the biosimilars market.
Market Segmentations and Scope of the Study:
The biosimilars market share is analyzed on the basis of product, application and geography. On the basis of product, the market is segmented into recombinant non-glycosylated proteins, recombinant glycosylated proteins, and recombinant peptides. The application segment includes oncology, blood disorders, growth hormonal deficiency, chronic and autoimmune disorders, and other applications. Geographic breakdown and deep analysis of each of the aforesaid segments is included for North America, Europe, Asia-Pacific, and Rest of the World.
Competitive Landscape:
Comprehensive competitive analysis and profiles of major market players such as Amgen Inc., F. Hoffmann-La Roche Ltd., Sandoz International GmbH, Dr. Reddy's Laboratories Ltd., Teva Pharmaceutical Industries Ltd., Pfizer Inc., Samsung Bioepis, Biocon, Stada Arzneimittel AG and Mylan N.V. is also provided in this report.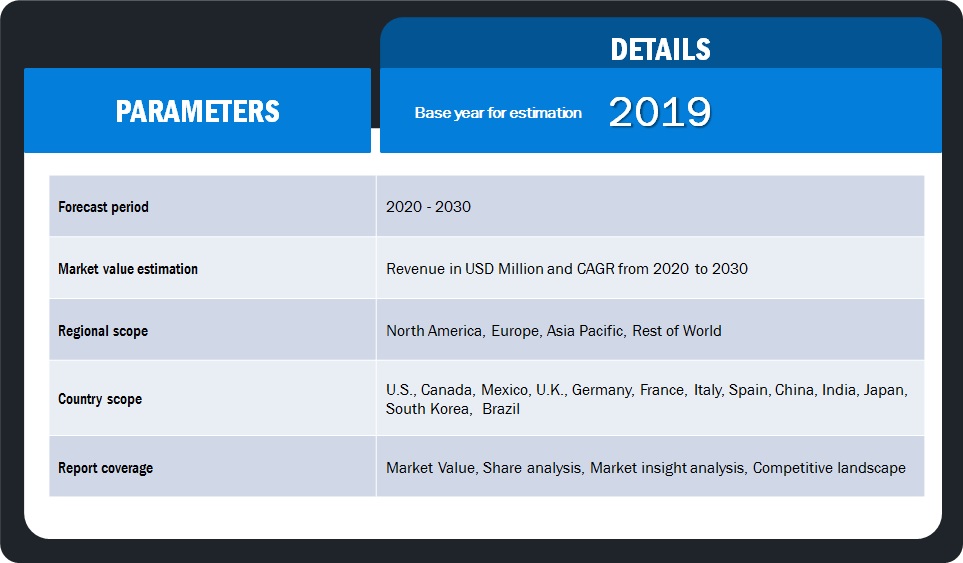 KEY MARKET SEGMENTS:
Global Biosimilars Market, By Product
Recombinant Non-Glycosylated Proteins
Human Growth Hormones
Granulocyte Colony-Stimulating Factor (G-CSF)
Interferons
Insulin
Recombinant Glycosylated Proteins
Erythropoietin
Monoclonal Antibodies
Infliximab
Rituximab
Adalimumab
Other Monoclonal Antibodies
Global Biosimilars Market, By Application
Oncology
Blood Disorders
Growth Hormonal Deficiency
Chronic And Autoimmune Disorders
Other Applications
Global Biosimilars Market – By Geography

North America
Europe

Germany
France
UK
Rest of Europe

Asia-Pacific

Japan
China
India
Rest of APAC

RoW

Latin America
Middle East
Africa