The Global Biotechnology Market size is estimated to be USD 482.40 billion in 2019 and is predicted to reach USD 1257.41 billion by 2030 with a CAGR of 9.1% from 2020-2030. Biotechnology utilizes biological systems, living organisms or their derivatives to develop or modify products or processes for specific use. Biotechnology couples cellular and biomolecular processes to develop technologies and products that help improve human lives. Biotechnology tools are useful in research supporting biodiversity and biosecurity throughout the world.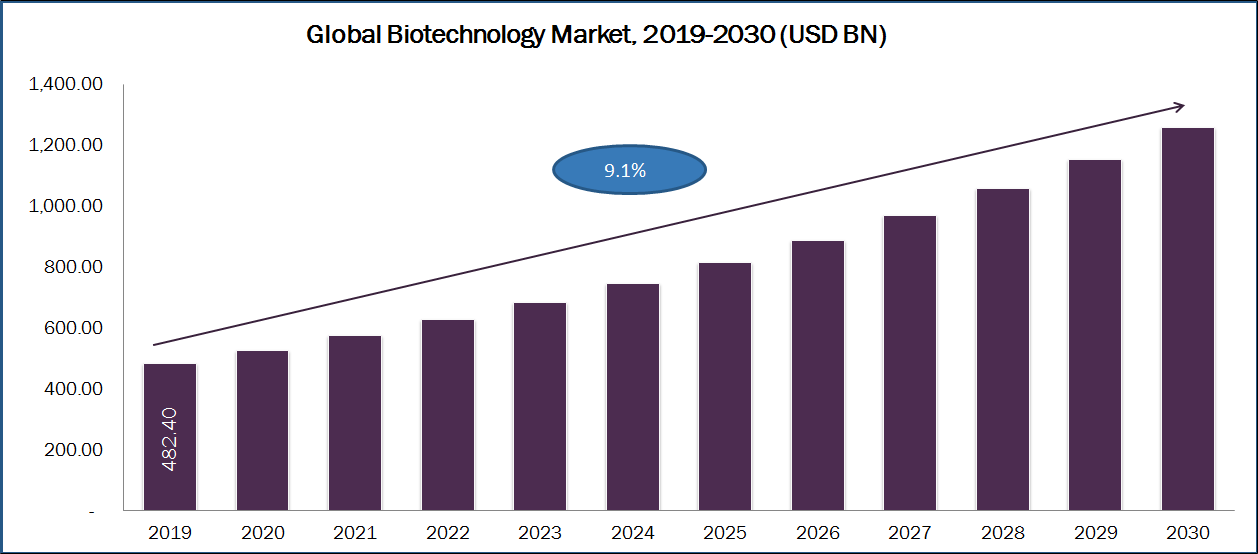 With the development of genetic engineering in 1970's, research in biotechnology developed rapidly, as this filed of science offers new possibilities to make changes in the genetic material such as DNA of organisms. The field of biotechnology is progressing in rapidly and bringing amazing advances in fields ranging from medicine to neuroscience to computing. Some of the future advances involve development of bionic limbs, optogenetics, and molecular computers that are expected to bring humanity closer to the technical singularity. Increasing success in advancements combining biology with technology, opens new avenues in the biotechnology market.
Market Dynamics and Trends:
Growing population across the globe is one of the major factors that is driving the growth of biotechnology market. According to the UN, global population is expected to reach 9.7 billion in 2050 and further increase to 11.2 billion by 2100. This increasing population drives the demand for food and agricultural products and biotechnology can help ensure continued health and food security for this increasing global population. In addition this, there is rapid growth in the prevalence of chronic diseases such as hepatitis B, cancer, and other orphan disorders which fuels the demand for advanced therapeutic alternatives. Moreover, increasing government funding for research and development, decreasing prices of DNA sequencing and increased adoption of bioinformatics are some of the additional factors driving the growth of biotechnology market. However, risks associated with GM organisms and crops and ethical concerns associated with clinical trials are likely to hinder the market growth.
With the opportunities offered by this industry, large number of companies mainly focus on research and development and their primary growth strategy. Companies such as Roche, Pfizer, and Sanofi invest a significant amount of their revenue share into research and development. Moreover, these players also focus on expanding their existing business by collaborating and acquiring smaller players in the market. In 2017, the merger and acquisition deals in the life sciences arena summed up to $200 billion. Some of these acquisitions include Johnson & Johnson's $30 billion acquisition of Actelion, and Gilead Science's acquisition of Kite Pharma for $12 billion.
Market Segmentations and Scope of the Study:
The biotechnology market share is analysed on the basis of technology, application, and geography. The technology segment covers the market for DNA sequencing, nano-biotechnology, tissue engineering and regeneration, fermentation, cell based assay, PCR technology, chromatography, and others. On the basis of application the market is segmented into health, food & agriculture, natural resources & environment, industrial processing, bioinformatics, and others. Geographic breakdown and deep analysis of each of the aforesaid segments is included for North America, Europe, Asia-Pacific, and Rest of the World.
Competitive Landscape:
Comprehensive competitive analysis and profiles of major market players such as AstraZeneca, Pfizer, Celgene Corporation, Biogen, Abbott, Merck, Sanofi, Novo Nordisk, Novartis AG, and F. Hoffmann-La Roche Ltd is also provided in this report.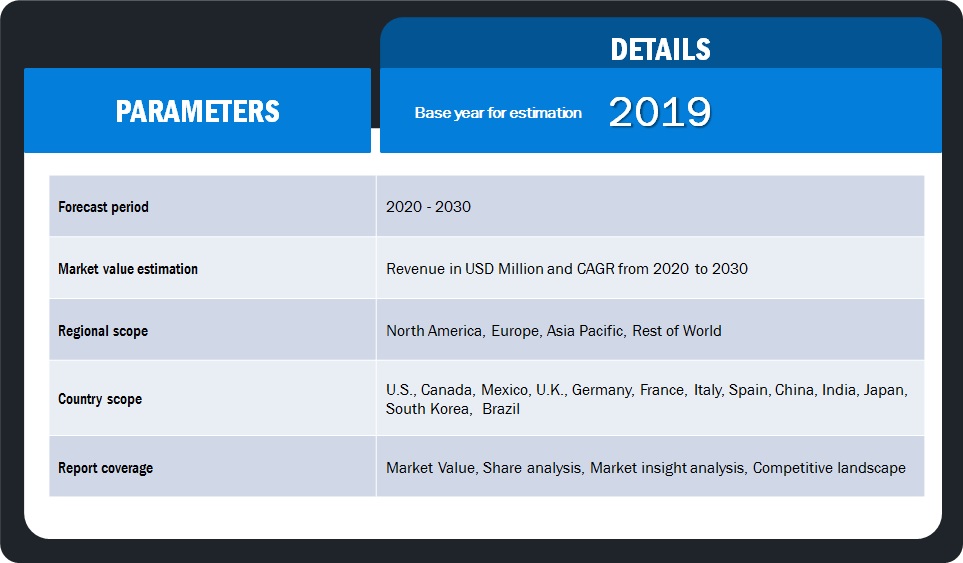 KEY MARKET SEGMENTS:
Global Biotechnology Market, By Technology
DNA Sequencing
Nanobiotechnology
Tissue engineering and Regeneration
Fermentation
Cell Based Assay
PCR Technology
Chromatography Market
Others
Global Biotechnology Market, By Application
Health
Food & Agriculture
Natural Resources & Environment
Industrial Processing
Bioinformatics
Others
Global Biotechnology Market – By Geography

North America
Europe

Germany
France
UK
Rest of Europe

Asia-Pacific

Japan
China
India
Rest of APAC

RoW

Latin America
Middle East
Africa