The Global Blood Culture Test Market size is estimated to be USD 4.04 billion in 2019 and is predicted to reach USD 10.95 billion by 2030 with a CAGR of 9.5% from 2020-2030. Blood cultures are used to detect presence of microorganisms such as bacteria and fungi in the blood sample. Blood culture tests are performed to detect the infection that can spread through blood stream and can lead to sepsis, identify the causative agent and suggest a proper treatment for the patient. The infections spreading through the blood stream include bacteraemia and septicaemia among others.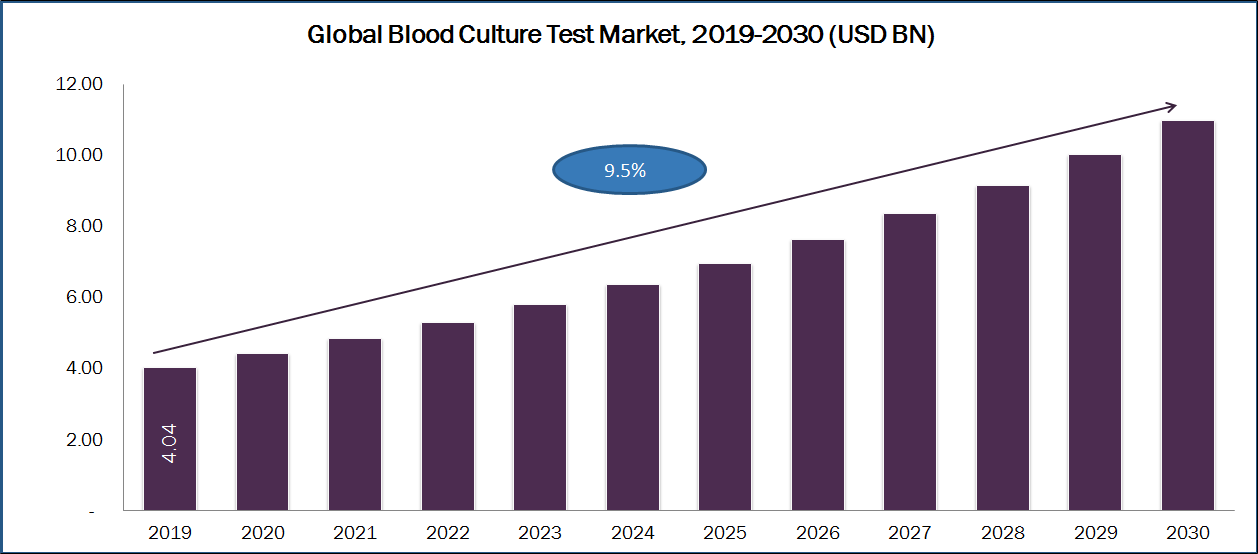 The current technologies for diagnosing bloodstream infections are those that people have been using since a long time and are used to for a number of years, namely conventional blood cultures. Traditionally, blood cultures were processed in a specific way on detection of infection and get the results in 1 or 2 days. However, recent advances have enabled usage of rapid diagnostics that help make the etiologic diagnosis and get some susceptibility information within a short time frame of 1 or 2 hours. The new technologies are mostly molecular-based; they are either single-plex or multiplex polymerase chain reaction (PCR) assays or other DNA amplification techniques. Recent developments of target specific assays focus on isolating bacteria in minimum time frame and provide significant opportunities in this market.
Market Dynamics and Trends:
With increasing prevalence of infectious diseases, the demand for various infection detection techniques such as automated or conventional/manual methods is also increasing. According to WHO data, around 30 million people are affected with sepsis every year. Such high statistics of infectious diseases leads to increasing demand for blood culture tests globally. Moreover, increasing geriatric population, growing demand for rapid diagnostic tests, and government initiatives to reduce incidence of infectious diseases are some other factors that drive the growth of blood culture tests market. However, stringent regulatory environment and lack of trained laboratory technicians are likely to hinder the growth of this market.
The players in the blood culture test market focus on providing broad range of advanced blood culture test products for multiple applications. Companies such as Thermo Fisher Scientific, Becton Dickinson, Danaher Corporation have a strong distribution network that helps the companies to supply their products worldwide and enhance their global presence. In order to maintain this global reach, companies adopt strategic partnerships and collaborations that facilitates expansion of existing product offerings and enhance their customer base. Such strategic way outs aids in company revenue growth and simultaneously propels the growth of blood culture tests market.
Market Segmentations and Scope of the Study:
The blood culture test market share is analysed on the basis of product, method, technology, application, end user and geography. The product segment covers the market for consumables, instrument, and software and services. On the basis of method the market is segmented into conventional and automated blood culture techniques. By technology the market is segmented into culture-based, molecular, and proteomic technology. The application segment is divided into bacterial infections, fungal infections and mycobacterial infections. The end user segment comprises of hospitals laboratories, reference laboratories, and other end users. The geographical segmentation covers North America, Europe, Asia Pacific, and Rest of the World.
Competitive Landscape:
Comprehensive competitive analysis and profiles of major market players such as Becton, Dickinson and Company, bioMérieux SA, Thermo Fisher Scientific, Danaher Corporation, Luminex Corporation, Roche Diagnostics, Bruker Corporation, Abbott, Beckman Coulter and Alere is also provided in this report.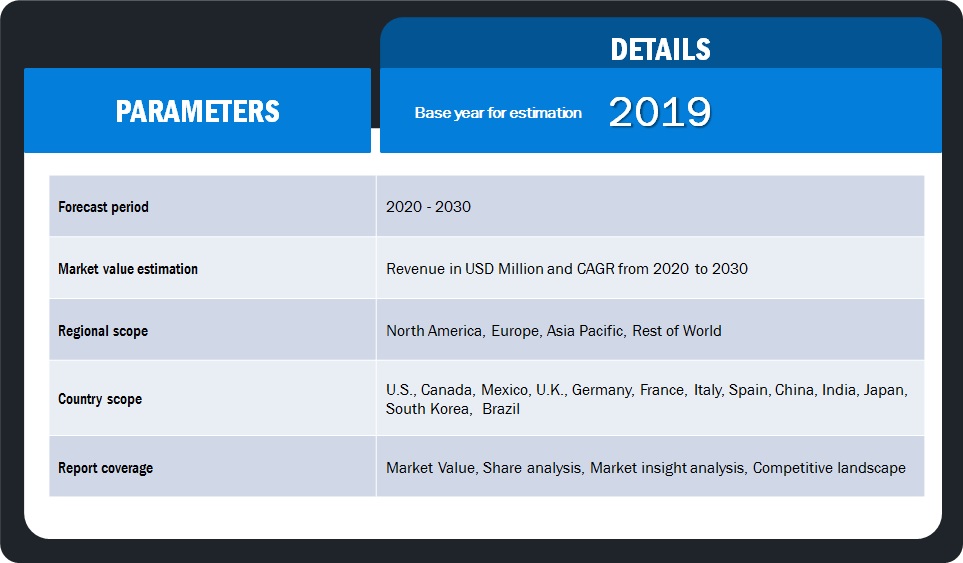 KEY MARKET SEGMENTS:
Global Blood Culture Test Market, By Product
Aerobic media
Anaerobic media
Fungi/yeast media
Pediatric media
Mycobacteria media
Assay, kits, and reagents
Accessories
Incubators
Colony counters
Microscopes
Gram stainers
Global Blood Culture Test Market, By Method
Global Blood Culture Test Market, By Technology
Culture-based Technology
Molecular Technology
Global Blood Culture Test Market, By Application
Bacterial infections
Fungal infections
Mycobacterial infections
Global Blood Culture Test Market, By End User
Hospital laboratories
Reference laboratories
Others
Global Blood Culture Test Market – By Geography

North America
Europe

Germany
France
UK
Rest of Europe

Asia-Pacific

Japan
China
India
Rest of APAC

RoW

Latin America
Middle East
Africa