The Global Blood Preparation Market size is estimated to be USD 38.76 billion in 2019 and is predicted to reach USD 66.28 billion by 2030 with a CAGR of 5.0% from 2020-2030. Blood is a lifesaving liquid organ which is a mixture of cellular elements, colloids, and crystalloids. Blood can be classified into different blood components such as platelet concentrate, packed red blood cell (PRBC) concentrate, fresh frozen plasma and cryoprecipitate. Majority of blood bank and blood laboratories prepare blood components after receiving the whole blood.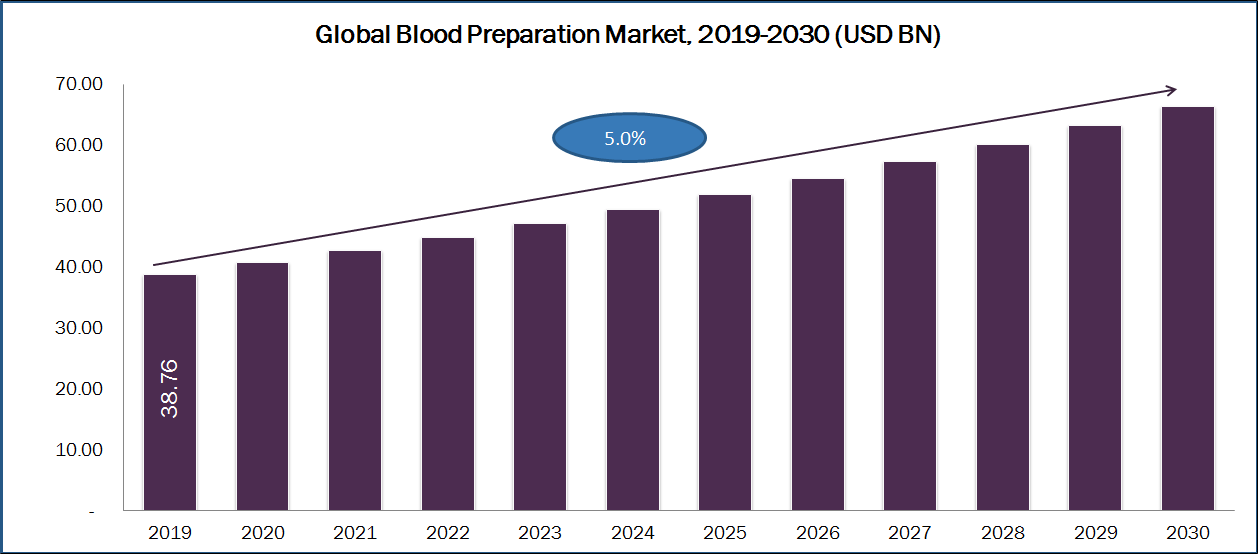 In 1960, blood component preparation technique was developed to separate blood products from one unit whole blood by a particular equipment known as refrigerated centrifuge. In order to maintain the quality of the blood components, the blood preparation process must be carried out in facilities that meet good manufacturing practices. The invention of technologies for blood transfusion and preparation of plasma derivatives were huge achievements that intensely improved prognosis and quality of life for patients with conditions such as haemophilia and immunodeficiency disorders. Development of advanced technologies for separating the blood components offer significant opportunities in this market. Many companies are involved in development of innovative high-speed technologies and instruments for easily preparing blood components.
Market Dynamics and Trends
Globally, with increasing population and growing prevalence of various diseases and disorders, the number of surgeries are increasing tremendously. Also, there is growth in blood disorders such as thrombocytosis and the increasing requirement for blood during accidents and surgical procedures have enhanced the demand for blood transfusion to make up for extreme blood loss. Furthermore, various initiatives taken up by regulatory authorities to maintain the good manufacturing practices and to spread awareness on the complications associated with blood conditions have also propelled the demand for blood preparation techniques. World Health Organization (WHO) has passed a resolution that focuses on availability, safety and quality of blood products. However, risks associated transmission of diseases such as HIV, Hepatitis with blood transfusion are likely to limit the growth of this market.
In order to enhance their business, the key players in the blood preparation market mainly focus on growth strategies such as partnerships, collaborations, agreements, mergers and acquisitions, and product expansion. Companies such as AstraZeneca, Sanofi Aventis, Bristol-Myers Squibb collaborate with public and private organizations and research centres to develop and market new innovative technologies in blood preparation market. Morever, companies are also receiving approvals for their new products that helps them expand their existing product offerings. Such activities enables the companies to compete with other major players in the global market.
Market Segmentations and Scope of the Study:
The blood preparation market share is analysed on the basis of product, type of agent, application and geography. The product segment covers the market for whole blood, blood components, and blood derivatives. On the basis of type of agents the market is divided into platelet aggregation inhibitors, fibrinolytics, and anticoagulants. The application segment comprises of thrombocytosis, pulmonary embolism, renal impairment and other applications. The geographical segmentation covers North America, Europe, Asia Pacific, and Rest of the World.
Competitive Landscape:
Comprehensive competitive analysis and profiles of major market players such as Celgene Corp, AstraZeneca Co., Sanofi Aventis, Leo Pharma Inc., Bristol-Myers Squibb Co., Baxter Healthcare Corp., Pfizer Inc., Shandong East Chemical Industry Co, and GlaxoSmithKline PLC. is also provided in this report.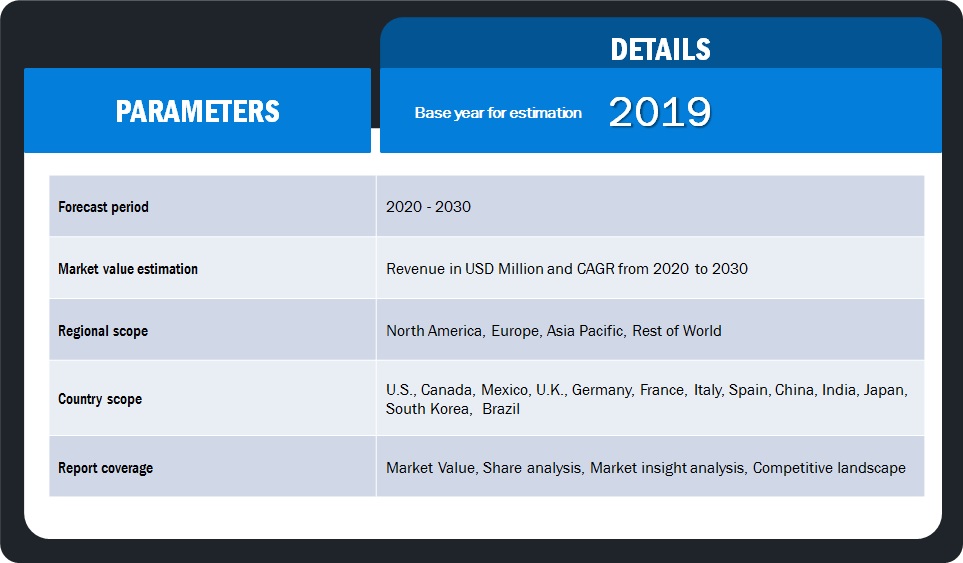 KEY MARKET SEGMENTS:
Global Blood Preparation Market, By Product
Red Cells
Granulocytes
Plasma
Platelets
Whole Blood Components
Packed Red Cells
Leukocyte Reduced Red Blood Cells
Frozen Plasma
Platelet Concentrate
Global Blood Preparation Market, By Type of Agent
Platelet Aggregation Inhibitors
Glycoprotein Inhibitors
COX Inhibitors
ADP Antagonists
Phosphodiesterase Inhibitors
Tissue Plasminogen Activator (tPA)
Streptokinase
Urokinase
Unfractionated Heparin
Low Molecular Weight Heparin (LMWH)
Ultra-low Molecular Weight Heparin
Vitamin K Antagonists
Direct Thrombin Inhibitors
Direct Factor Xa Inhibitors
Global Blood Preparation Market, By Application
Thrombocytosis
Pulmonary Embolism
Renal Impairment
Others
Global Blood Preparation Market – By Geography

North America
Europe

Germany
France
UK
Rest of Europe

Asia-Pacific

Japan
China
India
Rest of APAC

RoW

Latin America
Middle East
Africa