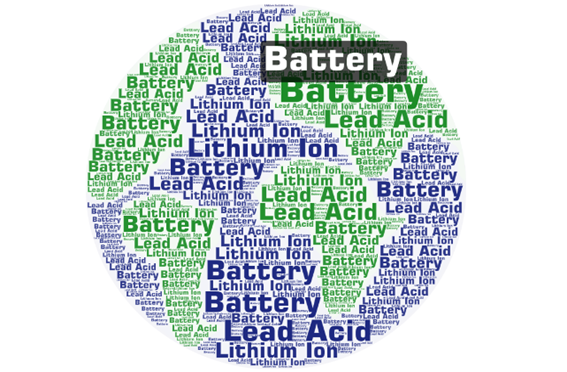 An Overview of Battery Market: What's Driving It?
Introduction
The battery market was valued at $112.1 billion in 2021 and is expected to reach $406.1 billion by 2030 at a CAGR of 15.9% during the forecast period, 2022-2030, according to Next Move Strategy Consulting. The growing popularity of renewable energy sources owing to the increasing global government initiatives and rising environmental awareness among people has led to the high demand for energy storage systems (ESS), driving the growth of the battery market.
Increased adoption of ESS has resulted in the growing demand for different types of batteries, such as lithium-ion (Li-ion), lead-acid, redox flow, sodium-sulphur, and zinc-bromine flow batteries. In addition, the increasing popularity of consumer electronics such as smartphones, tablets, smartwatches, and Bluetooth earbuds that depend on rechargeable batteries like lithium-ion further drives the market's growth. However, safety issues related to the use of batteries, as they are composed of toxic materials such as mercury, cadmium, lithium, and lead, restrain the market growth.
Types of Battery
There are several battery types in the market, and they are majorly divided into Lead Acid, Lithium Ion, Nickel Metal Hydride, Nickel Cadmium, and Others. The lead acid battery was the first rechargeable battery developed. It can supply high surge currents, providing cells with a relatively large power-to-weight ratio.
These features, along with their low cost, make lead acid batteries attractive for motor vehicles to provide the high current required by starter motors.The negative electrode of a nickel-metal halide (NiMH) battery is made from a hydrogen-absorbing alloy and sometimes many different inter-metallic compounds.
The positive electrode is made of nickel-oxide hydroxide, similar to that in Apple nickel-cadmium batteries. A rechargeable nickel-cadmium battery is used in portable electronic devices, such as laptops, drills, camcorders, and other tiny battery-operated devices that function on linear power discharge. Nickel-oxide hydroxide, metallic cadmium, and potassium hydroxide alkaline electrolyte make up the electrode.
The others segment includes cylindrical and prismatic batteries. A cylindrical lithium-ion battery is an electrochemical energy storage device. These batteries are used in several electronic devices. The electrochemical cell in these batteries consists of a layer of the positive electrode, a layer of the negative electrode, and two layers of the separator.
On the other hand, a prismatic lithium-ion battery is a cell whose chemistry is enclosed in a rigid casing, and its rectangular shape allows the efficient stacking of multiple units in a battery module. There are two types of prismatic cells; the electrode sheets inside the casing (anode, separator, cathode) are either stacked or rolled and flattened.
Source: Primary Research, Secondary Research, NMSC Analysis
The lithium-ion segment is the largest segment across the world in the battery market and has the highest shipments. For more detailed overview of these battery types, you can refer to our report on Global Battery Market.
Battery Market Share
The key players operating in the battery market include LG Chem Ltd., Contemporary Amperex Technology Co. Limited (CATL), Samsung SDI Co., Ltd., BYD, SKI, ENVISION AESC GROUP LTD., Gotion High tech Co. Ltd., Primearth EV Energy Co. Ltd., China Aviation Lithium Battery Co. Ltd., Panasonic Corporation and more.
Source: Primary Research, Secondary Research, NMSC Analysis
Which region dominates the battery market?
Asia-Pacific dominates the global battery market and is expected to remain dominant throughout this decade. This is attributed to the high sales of consumer electronics such as smartphones, laptops, and cameras in China, Japan, and India, owing to the large population in these countries.
For instance, in 2021, smartphone shipments in China and India accounted for 329.3 million and 160.7 million units, respectively. Lithium-ion batteries are an integral component of smartphones and are highly adopted worldwide for portable electronic devices due to their high energy density and low discharge rate.
In addition, Li-ion battery cells can deliver up to 3.6 Volts and do not require scheduled cycling to maintain their battery life. Thus, high sales of portable devices in this region are fuelling the battery market growth.
Source: Primary Research, Secondary Research, NMSC Analysis
Moreover, several countries in Asia-Pacific, such as China, Japan, and South Korea, are globally leading in producing electric vehicles. According to the China Association of Automobile Manufacturers (CAAM), the total number of electric vehicles produced by China was 3.5 million.
The growing environmental awareness and rising concerns regarding the harmful emissions from conventional vehicles have fuelled the demand for electric vehicles in this region, thereby boosting the battery market's growth.
On the other hand, the Europe battery market is growing at a CAGR of 19.61%. Europe is segmented based on countries such as the UK, Germany, France, Spain, Italy, the Netherlands, Denmark, Finland, Norway, Sweden, Russia, and Rest of Europe.
Europe holds a significant share of the battery market owing to factors such as the high adoption of EVs in this region, high sales of consumer electronics, and electrification of industrial equipment such as cranes and forklifts. These modern forklifts use rechargeable batteries, such as lead-acid and lithium-ion batteries, to operate.
The constant demand for the fast delivery of goods in the logistics and distribution sector in the European region is expected to increase the adoption of high-performance battery-powered forklifts for material handling, which, in turn, is driving the battery market.
Source: Primary Research, Secondary Research, NMSC Analysis
Moreover, stringent government regulations for vehicle emissions and rising environmental awareness among consumers in this region are expected to boost the adoption of EVs that use rechargeable batteries such as lithium-ion. For instance, in June 2022, environment ministers from the European Union's 27 member states signed a deal to approve a draft of measures to combat climate change in the region. The council agreed to introduce a 100% CO2 emissions reduction target by 2035. This agreement effectively states that no new cars with internal combustion engines will be sold in the region starting from 2035.
For more detailed overview of other regions, you can inquire at our website.
About the Author:
Sha
nkar Nishant is a researcher at Next Move Strategy Consulting with a cumulative experience of more than 4 years. Shankar is enthusiastic about new technology and enjoys working with a diverse range of global clients; and has delivered numerous market reports in the Energy & Power domain. He can be reached at shankar.dutta@nextmsc.com
Share this post?