The Global Biological Implants Market size is estimated to be USD 93.31 billion in 2019 and is predicted to reach USD 208.87 billion by 2030 with a CAGR of 7.6% from 2020-2030. An implant is a medical device manufactured to replace or support the missing or damaged biological structure. Biological implants are made from biosynthetic material such as collagen, and tissue engineered products such as artificial bones, skin, or tissues that are compatible with the human body cells. These devices are harvested and transplanted into the recipient site in order to regularise the physiological functions.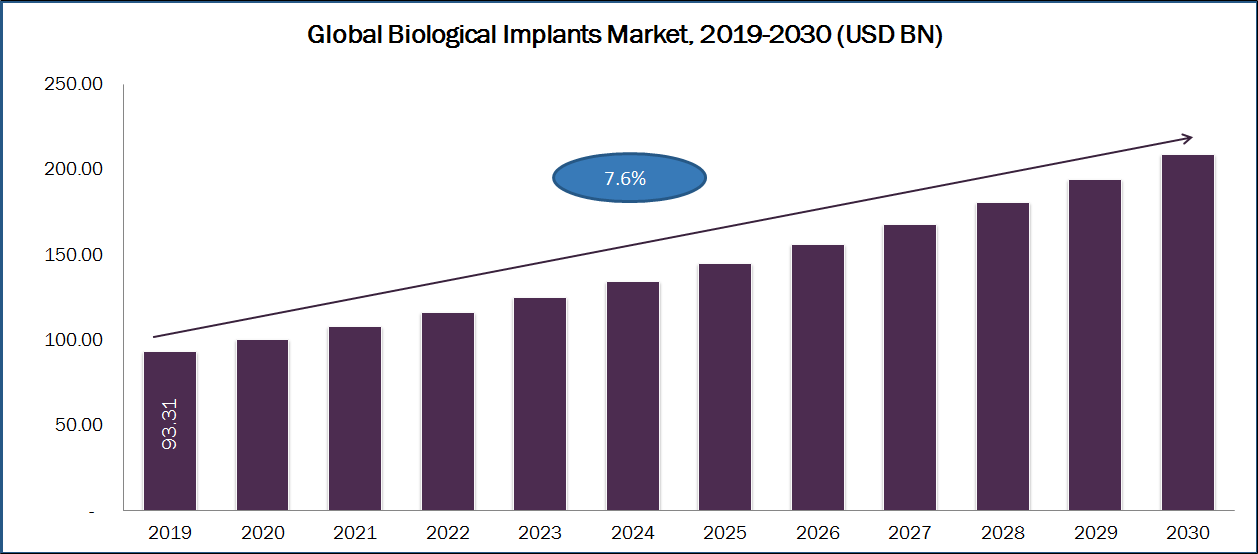 Biological implants can be utilized as mechanical support during bone-healing or as a vascular stent to keep blood vessels open. For the long term success of biological implants in many such conditions, appropriate selection of biomaterial is a crucial factor. The biological environment is not compatible with any material, hence to optimize biologic performance, it is important to select appropriate implants to reduce the negative biologic response while maintaining adequate function. To maintain the biological environment and provide compatible implants, substantial advancements have been made in biomaterials used for implants. Recent studies are highly focused on developing metallic, ceramic, polymer-based, and composites implants for orthopaedic and dental applications with the aim of enhancing performance and safety. The progress in material design for biomedical applications has opened new revenue pockets for the players in the market.
Market Dynamics and Trends:
Increasing prevalence of medical conditions such as cardiovascular diseases, orthopaedic and dental conditions, and neurological and spinal disorders that can be treated with biological implants are the major factors driving the growth of the biological implants market. According to the WHO statistics, around 17.9 million people die with cardiovascular disease (CVD) every year. Such large number of patients increase the demand for biological implants. Moreover, increasing number of road accidents, growing research and development activities and innovations in implant technologies, and increasing awareness about cosmetic implants, are some additional factors driving the growth of biological implants market. However, factors such as high cost of implants and critical reimbursement scenario are likely to hinder the biological implants market growth.
As surgical procedures and organ transplants are increasing globally, the risk of foreign body rejection associated with these procedures is also increasing. This has propelled companies to focus on developing biologically derived reconstructive solutions. Various companies focus on new product development as their major strategy to sustain in this market. In June 2018 NuVasive, Inc. launched AttraX Scaffold, an absorbent ceramic-collagen bone graft. Also, Aroa Bio surgery received CE Mark for the commercial launch of OviTex Reinforced Bio Scaffolds in the European Union (EU). Additionally, collaborations, agreements, expansions are some other strategies adopted by the established as well as emerging players in the biological implants market.
Market Segmentations and Scope of the Study:
The biological implants market share is analyzed on the basis of origin, type, mode of administration, and geography. On the basis of origin, the biological implants market is segmented into auto graft, allograft, xenograft and synthetic. By type the market is further segmented into cardiovascular, spinal, orthopedic, dental, ophthalmic, neurostimulators and others. The mode of administration segment covers the biological implants market for surgical and injectable. The geographical segmentation covers North America, Europe, Asia Pacific, and Rest of the World.
Competitive Landscape:
Comprehensive competitive analysis and profiles of major market players such as Medtronic, St. Jude Medical, Stryker, Boston Scientific, DePuy Synthes, C R Bard, Gore (WL) & Associates Inc., Abbott Laboratories, B Braun Melsungen AG, and Edwards Life sciences Corporation is also provided in this report.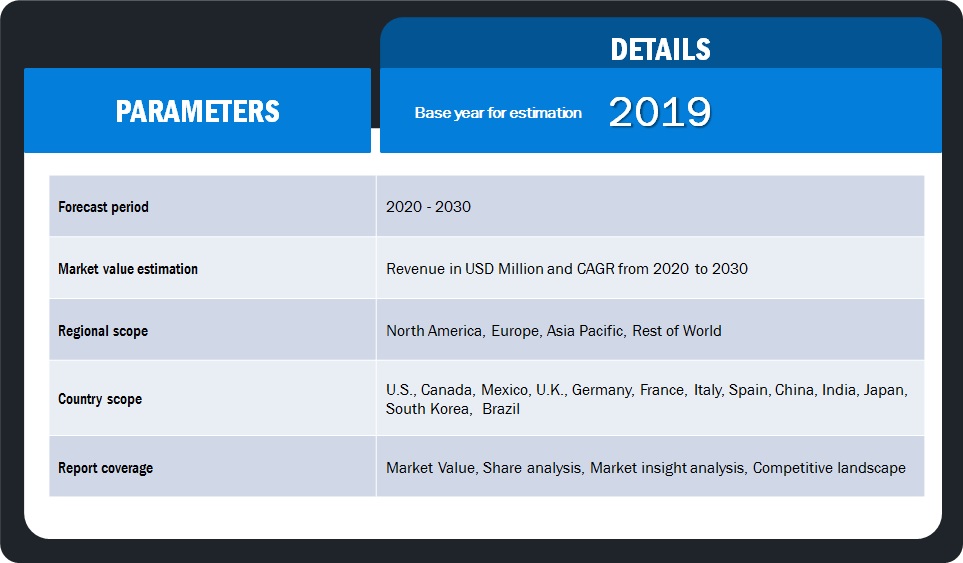 KEY MARKET SEGMENTS:
Global Biological Implants Market– By Origin

Allograft
Autograft
Xenograft
Synthetic

Global Biological Implants Market – By Type

Cardiovascular Implants

Pacing Devices

Cardiac Resynchronization Therapy Devices (CRTs)
Implantable Cardioverter Defibrillators (ICDs)
Implantable Cardiac Pacemakers (ICPs)
Pacing Accessories

Pacing Leads
Pacing Batteries

Stents & Related Implants

Coronary Stents

Drug-Eluting Stents
Bare-Metal Coronary Stents
Bioabsorbable stents

Peripheral Stents

Endovascular Stent-Grafts
Renal & Related Stents
Femoral & Related Stents
Carotid Stents

Stent-related Implants

Synthetic Grafts
Vascular Grafts
Peripheral Grafts
Vena Cava Filters

Structural Cardiac Implants

Heart Valves & Accessories
Tissue Heart Valves
Mechanical Heart Valves
Heart Valve Repair Devices
Ventricular-Assist Devices
Implantable Heart Monitors
Insertable Loop Recorders (ILRs)
Implantable Hemodynamic Monitors (IHMs)

Spinal Implants

Thoracolumbar Implants
Intervertebral Spacers
Machined Allograft Spacers
Cervical Implants
Motion Preservation Implants
Implantable Spinal Stimulators

Orthopedics & Trauma

Reconstructive Joint Replacements

Knee Replacement Implants
Hip Replacement Implants
Extremities

Shoulder Implants
Elbow Replacements
Ankle Implants
Other Joint replacements fusion products

Orthobiologics

Hyaluronic Acid
Bone Substitutes
Bone Growth Factors
Bone Cement
Tissue Implants

Trauma Implants

Internal Trauma Fixation Devices
Craniomaxillofacial Fixation Devices
Implantable Trauma Stimulators

Sports Medicine

Dental

Plate form dental implants
Root form dental implants

Ophthalmic Implants

Intraocular Lens
Glaucoma & Other Lenses

Neurostimulators Implants

Cortical Stimulators
Deep Brain Stimulators
Sacral Nerve Stimulators
Spinal Cord Stimulators
Vagus Nerve Stimulators

Others

Gynecological Devices
Drug Implants
Otolaryngeal Implants
Cosmetic Implants
Gastroenterological Implants
Urological Implants
Skin & Wound Care

Global Biological Implants Market – By Mode of Administration
Global Biological Implants Market – By Geography

North America
Europe

Germany
France
UK
Rest of Europe

Asia-Pacific

Japan
China
India
Rest of APAC

RoW

Latin America
Middle East
Africa