The Global Bio production CMO & CRO Market size is estimated to be USD 24.20 billion in 2019 and is predicted to reach USD 51.46 billion by 2030 with a CAGR of 7.1% from 2020-2030. The pharmaceutical and biotechnology companies are currently focusing on outsourcing their research and development, manufacturing and distribution needs to contract manufacturers and contract research organizations. These partnerships mainly focus towards core competencies and gaining access to skilled expertise and robust analytical tools in order to bring quality products in the market.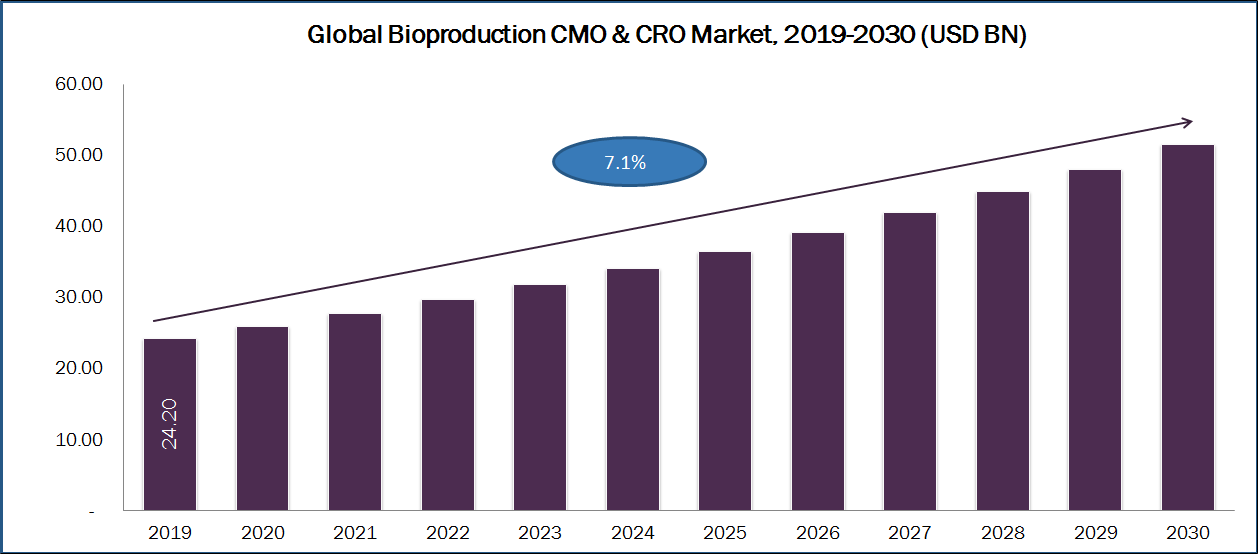 Outsourcing and consolidation are common terms associated with today's mature manufacturing sectors. Despite continuous innovations in the healthcare and bio pharma industry, the pharmaceutical and biotechnology companies are short of significant manufacturing and logistics facilities. Outsourcing these services help these companies to realign their strategic priorities. Moreover, the contract manufacturers have adapted and made use of opportunities provided to them by both small and large companies, which has shaped the industry. CMOs and CROs supports the bio pharma companies by providing guidance through skilled personnel and adequate sites and equipment in terms of regulations and technology.
Market Dynamics and Trends:
The development of biological products has increased tremendously in past few years. This substantial growth in the manufacturing sector demands larger and more appropriate manufacturing capabilities, based on which bioproduction activities are increasingly being outsourced and budgets are increasing. Moreover, increasing investments in establishments of new manufacturing facilities and enhancement of production capabilities fuels the growth of this bio production CMO & CRO market. Adoption of innovative technologies help contract manufacturers to provide adequate services to the industry giants, however many well-established players keep their production in-house as production of large molecules is technologically complex. Also, several companies are expanding their in-house production capabilities, which is expected to impact on the growth of bioproduction CMO & CRO market.
CROs and CMOs are creating a new benchmark for the effective production of biopharmaceuticals including biologics and biosimilars. Number of tradional drug developers are making strategic alliances and collaborations to with contract manufacturers and researchers to enhance their existing product portfolio. For instance, in April 2015 Sartorius Stedim Biotech acquired UK-Based CRO, BioOutsource. This acquisition enables the company to provide contract testing services to global biopharmaceutical clients in order to monitor the safety and quality of biologic drugs and vaccines. Also, in December 2016, Accinov merged with a Canadian CRO, Biodextris. Such developments provides the companies access to novel technologies and also enhances their client base.
Market Segmentations and Scope of the Study:
The bio production CMO & CRO market share is analyzed on the basis of products, services, application and geography. On the basis of product, the bio production CMO & CRO market is segmented into biologics, antisense, RNAi, & molecular therapy and biosimilars. By services the market is segmented into contract manufacturing and contract research. The application segment includes oncology, inflammation & immunology, cardiology, neuroscience and others. Geographic breakdown and deep analysis of each of the aforesaid segments is included for North America, Europe, Asia-Pacific, and Rest of the World.
Competitive Landscape:
Comprehensive competitive analysis and profiles of major market players such as Lonza, Boehringer Ingelheim, FUJIFILM Diosynth Biotechnologies U.S.A., Samsung BioLogics, AbbVie Inc., Patheon, Inno Biologics Sdn Bhd, TOYOBO CO., LTD., Binex Co., Ltd., and WuXi Biologics is also provided in this report.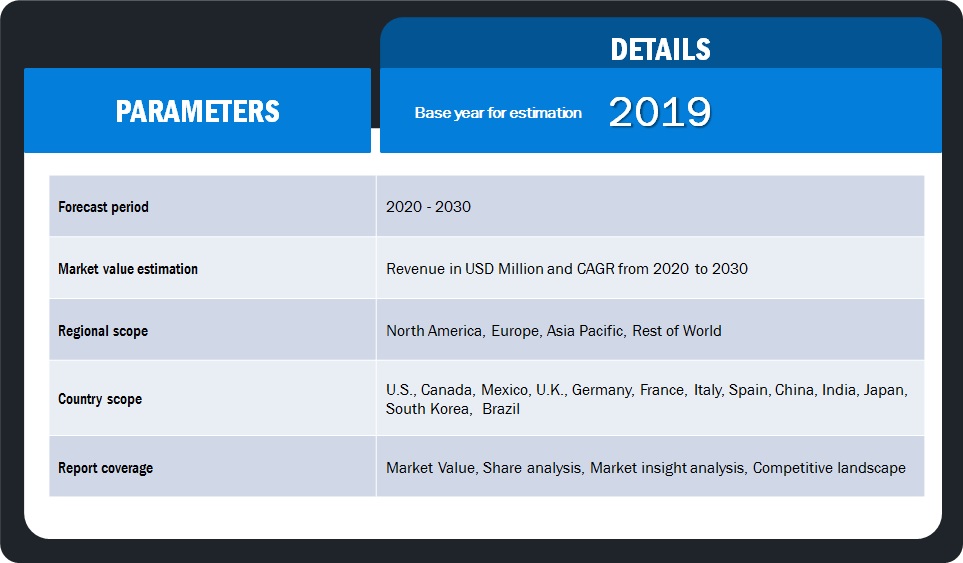 KEY MARKET SEGMENTS:
Global Bio production CMO & CRO Market– By Product
Monoclonal Antibodies
Recombinant proteins
Vaccines

Antisense, RNAi, & molecular therapy
Biosimilars
Global Bio production CMO & CRO Market – By Services
Downstream processing
Upstream processing
Fill & finish operations
Analytical & QC testing
Packaging
Others
Global Bio production CMO & CRO Market – By Application
Oncology
Inflammation & immunology
Cardiology
Neuroscience
Others
Global Bio production CMO & CRO Market – By Geography

North America
Europe

Germany
France
UK
Rest of Europe

Asia-Pacific

Japan
China
India
Rest of APAC

RoW

Latin America
Middle East
Africa