Agrochemicals Industry: Reshaping Agricultural Landscape
Market Introduction
The Agrochemicals Industry refers to producing, marketing, and distributing agricultural chemicals. This industry comprises several sub-sectors, such as pesticides, herbicides, and fertilizers. The Agrochemicals industry has also gained prominent attention as market players are increasing their investments and engaging in R&D activities to meet the demands of people. This industry has also evolved rapidly due to advances in chemistry, biotechnology, and new agricultural practices. Recent developments such as integrated pest management (IPM), precision farming, and off-patent products significantly shape this industry. Despite persistent challenges, the agrochemicals market seems poised to grow due to rising demand for products that protect against crop losses and increase crop yields. Let us have a look at the driving factors of the industry.
Driving Factors
Population growth and urbanization
The rise in population across the world increases the need for food production. With the ongoing demand for food production, there is an increasing demand for different agrochemicals such as herbicides and pesticides in several countries such as the U.S., China, Cambodia, Spain, Bhutan, India, Austria, Poland, and others. Also, the availability of fertile soil is depleting due to rising urbanization across the globe. This, in turn, increases the demand for agrochemicals to maintain soil health and increase crop production.
Conservation of endangered plant species
The need to conserve plant species arises as several plants in the environment have already vanished and some are near to extinction due to direct and indirect activities of human actions. Numerous plant species are already extinct, while many others have reduced population sizes. The International Union for Conservation of Nature (IUCN) identifies the need to conserve biodiversity at three levels: genetic diversity, species diversity, and ecosystem diversity. Protecting endangered plant species against insects, weeds, fungi, and other pests increases the use of agrochemicals. Thus, the increasing demand for agrochemicals to conserve endangered plant species boosts the growth of the agrochemical industry.
Asia-Pacific dominates the agrochemicals industry
According to a report published by Next Move Strategy Consulting, Asia-Pacific holds the major share in the agrochemicals industry with a market share of 32.3%, followed by Rest of the World (RoW) with a share of 28.5%. The growing population that increases the overall food demand and the growing adoption of precision agriculture have boosted the market growth of agrochemicals in the Asia-Pacific region.
Moreover, several agrochemicals manufacturers, such as Jiangsu Yangnong and Wynca Chemical, are engaged in developing and researching agrochemicals products. These factors have been crucial to the growth of the agrochemicals industry in the Asia-Pacific region.
Major Players in Agrochemicals Industry
Numerous companies are engaged in the production of agrochemicals. Leading players are strengthening their positions through various strategies, including introducing new products, partnerships, collaborations, and acquisitions to maintain their dominance in the market.
Next Move Strategy Consulting recognizes at least five large players in the market, including Syngenta Crop Protection, Bayer Crop Science, BASF, Corteva, Inc., UPL, and others.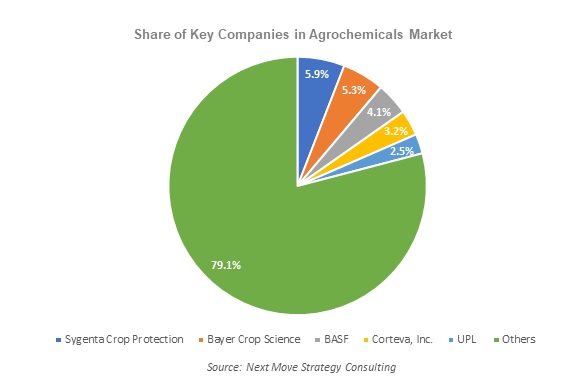 Recent Developments
UPL launched a new insecticide
UPL is a global provider of agricultural chemicals. This company has been working prominently to produce new chemicals with upgraded quality, and is launching new products and adopting other strategies to increase its market share globally. In June 2022, UPL launched a new paddy insecticide named AI Flupyrimin in India. Flupyrimin is a novel insecticide with unique biological properties and residual control, effective against major rice pests such as brown plant hopper (BPH) and yellow stem borer (YSB).
Bayer's partnership with Ginkgo to develop agrochemicals
Bayer AG is a leading manufacturer of agrochemicals that delivers high-quality products to the global customers. It is engaged in R&D activities to upscale the agrochemicals sector. This company has been partnering with other companies to develop its agrochemicals business. In April 2022, Bayer AG announced a strategic partnership with Ginkgo Bioworks. The partnership aims to use Ginkgo's methodologies to create category-leading agrochemical crop products.
BASF launched a new platform for farmers
BASF has been investing in R&D activities to offer Indian farmers world-class crop solutions, including insecticides, herbicides, fungicides, seed treatment products, vegetable seeds, and digital solutions, to address evolving farming needs. In March 2022, BASF SE announced the launch of an innovation platform, 'AgroStart,' to inspire the latest agricultural digital solutions. The company would provide expertise and direct access to a global customer base and markets.
Conclusion
Agrochemicals are expected to play a significant role in the future of agriculture, offering numerous benefits such as increased crop production and protection of agriculture. Despite the challenges such as environmental concerns and regulatory hurdles that need to be addressed, it is apparent that agrochemicals will play a key role in shaping the future of agriculture. The agrochemicals industry needs to be more cohesive, and market players are adopting several strategies to increase their market reach to dominate in the future.
About the Author: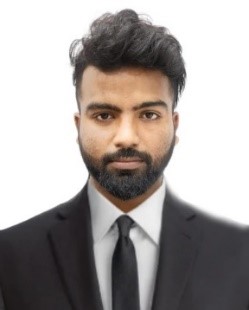 Kaushik Baul is a highly skilled and experienced researcher passionate about conducting thorough and accurate research. As a researcher, he is responsible for gathering, analyzing, and interpreting data and helping his clients to deal with complex business challenges. With a bachelor's degree in science, he has a strong foundation in data analysis and synthesizing relevant information to support a wide range of projects. He is an avid reader and has a love for traveling and playing cricket. The author can be reached at kaushik.baul@nextmsc.com
Share this post?