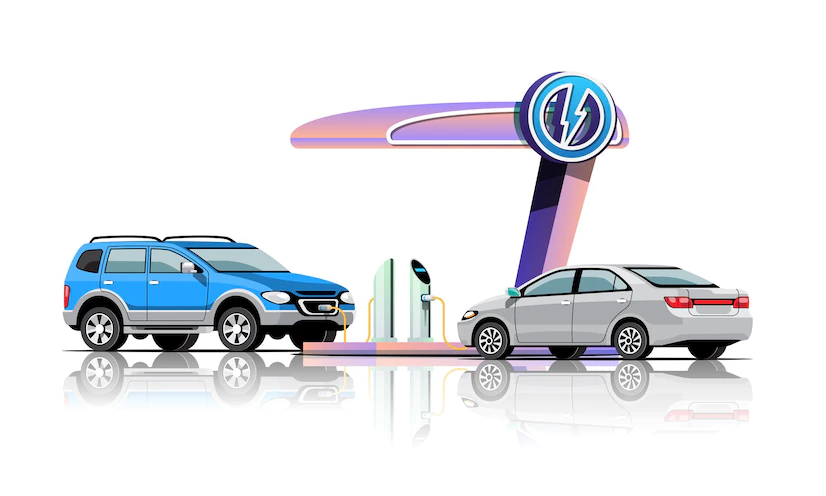 Electric Vehicle Charging: Drive to a Gas Station? No Thanks!
Introduction
Electric Vehicle Chargers are defined by the amount of energy delivered to a vehicle's battery per unit of time. It is an infrastructure used to connect a plug-in electric vehicle to an electrical outlet to charge battery. Electric vehicle chargers are used to provide charging to EVs with a battery. Electric vehicles, neighborhood EVs, and plug-in hybrids can all be charged at a charging station by connecting to an electrical source. Advanced features including smart meters, cellular connectivity, and network access are available at some charging stations. Charging of EVs can be carried out through several levels of charging such as level 1, level 2, and level 3. The higher the level of charging, the faster the charging process causing more power to be delivered to a vehicle. The maintenance cost of electric vehicles is much lower than conventional vehicles. The use of electric vehicles significantly reduces carbon footprints released into the atmosphere, which contain toxic gases. Growth in threat of carbon emissions and other harmful gases stemming from transportation has triggered the vital necessity of adopting electric vehicles.
Types of EV Chargers
For the reasons listed below, it is necessary to examine EV chargers:
Off-Board Top-Down Pantograph
The off-board top-down pantograph can be mounted on a pole or roof of a public transport stop. E-bus drives under the charging station and communicates with it wirelessly to lower the pantograph onto the contact rails fitted to roof of the bus. This charging system is referred to as an off-board top-down pantograph as it is installed on the roofs of bus stops. It can only be used at specific locations and preferably be designed for fast charging as EVs need to be parked below them. Charging begins automatically, following an automatic identification process, as soon as the pantograph is correctly positioned. The charging process ends once a defined charging state is achieved, or when driver releases the parking brake. Both interrupt electricity supply and pantograph are raised to enable the bus to continue its journey. The high-power direct current provided by this technology has already been demonstrated in Singapore, Germany, New Zealand, and the U.S.
On-Board Top-Up Pantograph
The on-board bottom-up pantograph charging solution is a fast-charging system mainly used for charging electric buses in cities with existing DC networks, such as for tramways. This type of charging method is suitable for applications where charging equipment is already installed in the bus. The on-board charging increases weight of a vehicle and provides a lower kW transfer. Transfer of high power is constrained by weight, space, and cost restrictions of single-phase on-board chargers. Hence, it requires a longer time to charge than the off-board charging setup. It offers all components needed for a charging system from a single source. Complementary rectifier substations are available for cities without an existing DC infrastructure. Electric buses are driven underneath charging station, which consists of a bipolar catenary. A bus driver starts the charging procedure by raising the pantograph to the catenary and stops it by lowering the pantograph.
Charging Via Connector
EVs may be quickly charged using plug-in DC chargers. With the benefit of lower infrastructure costs, plug-in DC chargers are offered as single or twin chargers. DC chargers are very dependable and simple to use as they are built on tested technology. No matter the maker or IT back-end vendor, Plug-in DC Charger is OCPP (Open Charge Point Protocol) compliant and provides a complete solution for communication with a central system.
Source: Next Move Strategy Consulting
Post-Pandemic Impact on Global Electric Vehicle Charging Industry
The COVID-19 pandemic proved quite detrimental to the automotive sector. It had a sudden impact on the global unified automotive industry. Indications include an interruption in the export of automotive parts from China, huge manufacturing disruptions across Europe, and shutting down of assembly plants in the U.S. This is placing extreme pressure on an industry that is already managing a downshift in global demand. Although, the pandemic has also led to an increase in the use of home charging stations. With many people spending more time at home due to lockdowns and remote work, there has been a surge in demand for home charging stations that allow EV owners to charge their vehicles overnight. This trend is likely to continue even as the pandemic subsides, as the convenience and cost savings of home charging make it an attractive option for many EV owners. In addition, the pandemic has accelerated the development of new technologies in the EV charging industry, such as wireless charging and bidirectional charging systems. These technologies have the potential to make EV charging even more convenient and efficient, and they may become more prevalent as the industry continues to evolve. Thus, the pandemic has had a mixed impact on the EV charging industry. While it has slowed the overall growth of the market, it has also spurred the development of new technologies and business models that could shape the industry's future direction.
The scenario of EV Charging Industry in Two Big Economies
United States is rapidly increasing electric vehicle (EV) charging infrastructure over the past few years. According to a recent report by McKinsey & Company, EV charging-energy demand for electric vehicles could reach 53 billion kilowatt-hours by 2030, a 20-fold increase from 2020. The government of the U.S. is also taking initiatives to promote EV charging across the country. For instance, President Biden's Bipartisan Infrastructure Law provides USD 5 billion to help States install EV chargers along interstate highways. Moreover, the Bipartisan Infrastructure Law makes the most transformative investment in electric vehicle charging in U.S. history that will put things on track to having hundreds of thousands of EV charging stations across the country. Currently, the U.S. has about 140,000 public EV chargers distributed across almost 53,000 charging stations, which are still far outnumbered by the number of gas stations.
Furthermore, through the implementation of regulatory laws and regional initiatives, the United States is taking aggressive emission reduction steps to lower atmospheric CO2 concentrations. Respiratory illnesses have been brought on by poor air quality in several major cities, including New York City, Los Angeles, and Houston, among others. Such circumstances make it challenging to survive in the current climate. In order to reduce air pollution levels, the EPA approved new regulations (the National Emissions Ceilings (NEC) Directive) for its member states in 2016. The necessity for an environmentally benign and low-residue method of transportation is being driven by all of these concerns taken together. Consequently, encouraging the use of electric vehicles and the growing demand for infrastructure to facilitate electric vehicle charging. In addition, there is a growing market for electric vehicles thanks to the large selection of EVs offered by numerous Original Equipment Manufacturers (OEMs), such as Tesla, Ford, and General Motors.
China is the world's largest and fastest-growing EV industry with 2.4 million EVs, which makeup 26% of all cars sold in China and were delivered to customers in the first half of 2022. Barely 10% of automobiles sold in China in the first half of 2021 were electric cars, therefore, the market had only doubled in size in a single year. The market is expanding as a result of China installing more AC charging stations. There were around 616,000 AC public charging outlets in China as of November 2021. The battery EV market in China, which also benefits from considerable backing from the government, is a strong supporter of the EV charging infrastructure in the country. Subsidies for buying new energy vehicles (NEVs) have been extended in China until 2022. In China, three main vehicle segments that make use of charging stations include the taxi industry, which is expanding quickly, buses, and electric light cars.
In contrast to buses, which need specialized captive infrastructure, other cars mostly need public rapid charging. Increase in the number of EVs sold among the population in China propels growth of the market. For instance, there were 3.3 million EVs sold by manufacturers in China in 2021, up from 1.3 million in 2020 and 1.2 million in 2019. Moreover, rise in government initiatives for adoption of EVs to provide facilities for charging infrastructure across the country is expected to drive the market of EV charging. For instance, in January 2022, China announced plans to expand its charging infrastructure to accommodate the growing fleet of electric vehicles. 60% of the expressway system in China would be equipped with fast charging stations. China has stated that by the end of 2025, the country will have a demand for 20 million electric vehicles.
Competitive Landscape
There are numerous companies that are engaged in manufacturing electric vehicle chargers. Leading players are fortifying their positions through a range of strategies, including the introduction of new products, partnerships, collaborations, acquisitions, and company growth. Next Move Strategy Consulting recognizes at least five biggest players in the market including, ChargePoint, Shell, TELD, Tesla, and ABB.
Source: Next Move Strategy Consulting
About the Author
Shyam Gupta is a passionate and highly enthusiastic researcher with more than four years of experience. He assists clients in overcoming difficult business challenges by providing actionable insights through exhaustive research. He has been closely monitoring a number of industries, such as Consumer Electronics, Robotics, and Electric Vehicles. He has a keen interest in writing articles and uses blogs as a medium to share his thoughts. He spends his time reading and painting, when not keeping up with industry news. The author can be reached at shyam.gupta@nextmsc.com
Share this post?