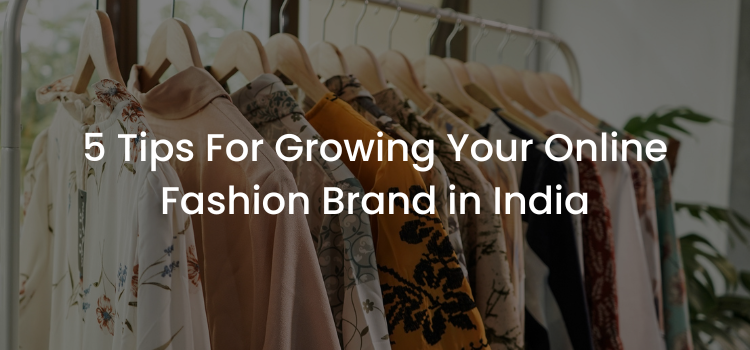 5 Tips For Growing Your Online Fashion Brand in India
India's online ecommerce market is booming everyday, and by 2030, it is predicted to be worth nearly US$ 350 billion. With this huge potential and market cap, more and more aspiring entrepreneurs as well as business men are entering the ecommerce sector, especially in the online fashion market.
But, trust me building an online fashion brand is very difficult, it requires a strong action plan and dedication.
In this article I will be sharing with you top 5 tips that can be used for growing your online fashion brand in India in an effective and efficient way.
5 Tips for Growing Your Online Fashion Brand in India
Below I have shared a checklist that will help you in growing your online fashion brand in India using the power of the internet, social media, online ads, etc.
1. Online Advertising
If you are running an online fashion brand, you just can not miss out running facebook ads, google ads, instagram ads, etc. With increasing technology and efficiency of these platforms it has become very easy to target and show your products in front of the right audience on social networking sites like facebook, instagram or on search engines like google.
Online advertising is expensive but it is totally worth it, trust me. There are many performance marketers out there who can help you achieve desired results through online advertising and you can also learn how to run ads on your own after doing a digital marketing course in Jaipur, or in any city you live.
2. Social Media Marketing
Using social media can be very effective and will help you in building your online fashion business with ease. All you need to do on social media is first, find relevant social media platforms where your audience is.
Second, start creating content that your audience will love to share and watch on their feed. There are multiple fashion brands in India, those who are built with the use of the internet. One such example is - Bewakoof.
Social media marketing is totally free. You need to understand the algorithm of the platform and put your strategies and high quality content to work.
3. Collaborate With Influencers
Influencer marketing has become a very important medium for making your brand go viral and getting recognition. In my opinion and experience it is also one of the best ways of building trust among the users.
But, with increasing consumption of the internet and short format content, everyone wants to become an influencer and many have succeeded too. And it has become quite difficult to find who is the right influencer for your brand, who can give you the best results.
If you are planning to use influencer marketing as your medium of growing your online fashion brand. I must recommend you to use a platform like UPFLUENCER, to evaluate and find correct and genuine influencers for your business.
4. Giveaways
If you want to increase your brand awareness and engagement on social media, giveaways should be your go to option. Giveaways are one of the easiest ways of making your brand go viral and reach a mass audience at once.
Usually an average social media giveaway works like - you upload a giveaway announcement post on your social media account with certain conditions like Like, comment, share and tag your 3 friends in the comments section and one of the lucky winners will win a free product from us.
Free product motivates all social media users to participate in the giveaway and follow your account and share your post with their friends. This is a great way of increasing social media engagement and growing your online business.
5. Online Marketplaces
Using online marketplaces like amazon, flipkart, myntra should be amongst your top priorities as it has become a very common strategy for fashion brands to reach more customers through these platforms.
Listing your products on amazon, myntra, flipkart will give your brand's a higher visibility and this will also be very helpful in adding credibility in your brands name, as more and more people will start recognizing your brand.
Working on online marketplaces requires proper strategies, it is not like, list your products and orders will knock your door. No, however if you list your products and properly present them with high quality images, optimised product descriptions and use Amazon PPC ads, then there are very high chances of getting hundreds of daily orders and a big chunk of profit.
In conclusion I would say, growing an online fashion brand is quite difficult but with consistent efforts, smart strategies and actionable plans you can beat your competitors and acquire a huge customer base.
I hope this article has been helpful and you have learnt how you can grow your online fashion brand in India.
Share this post?