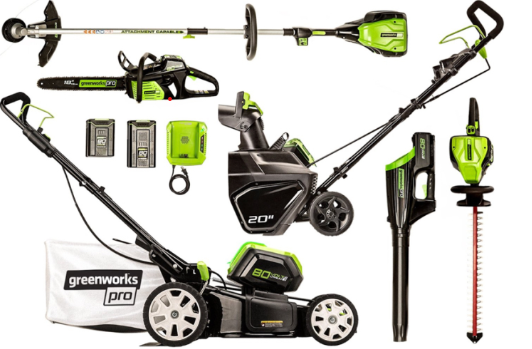 Overview of the Lawn Care Products Industry – Types, Regions, and Leading Players
Introduction
Lawn care products are the products that help homeowners or professional landscapers maintain and enhance the health and appearance of their lawns. These products range from basic tools, such as lawnmowers, rakes, and shovels to fertilizers, herbicides, and insecticides. They are designed to promote healthy growth of lawn, prevent weed growth, and control pest infestations.
Several other products are used for lawn care, including sprinkler systems, hoses, watering cans, aerators, dethatchers, and power rakes. There are also specialized products such as seed spreaders, soil testing kits, and compost bins that can help improve soil quality and promote healthy root growth.
In recent years, there has been a growing trend towards eco-friendly and sustainable lawn care products such as organic fertilizers and natural weed & pest control solutions. Many lawn care products are now formulated with less harmful chemicals and use environment-friendly packaging.
Market Size of the Lawn Care Products Industry
According to a market report from Next Move Strategy Consulting, the global lawn care market size was around USD 40.46 billion in 2022, and is expected to grow to USD 68.65 billion by 2030, registering a CAGR of 6.8% from 2023 to 2030.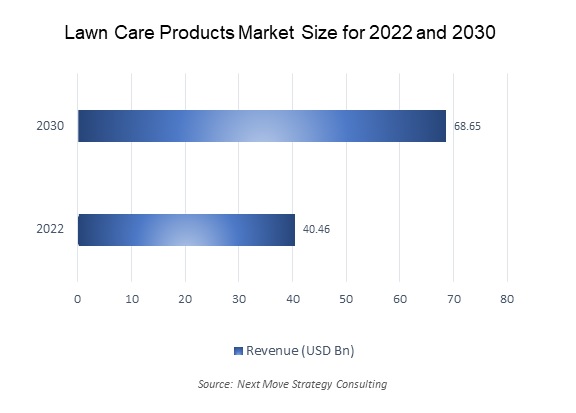 What are the types of propulsion in lawn care products?
There are four major propulsion types: diesel, gas, electric, and manual. The gas-powered segment dominated the lawn care products industry, contributing to 31.3% of the total market. In comparison, the electric-powered segment captured only 28.4% of the total market.
Gas-powered lawn mowers are the most common type of lawn mowers available in the market. Homeowners widely use these mowers due to their affordability and ease of use. Some companies that offer gas-powered lawn care products include Toro, Husqvarna, and Craftsman.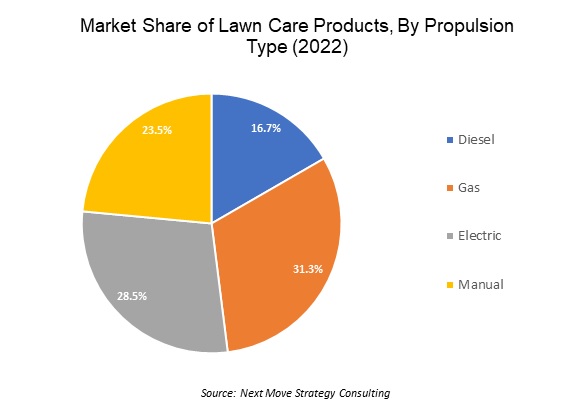 Regional Share of the Lawn Care Products Industry
According to Next Move Strategy Consulting, North America holds the major share in the lawn care products industry with 30.4%, followed by Europe with a share of 26.3%. The lawn care products market in North America is generally driven by the rising number of golfers and the increasing demand for battery-powered lawn mowers to replace gas-powered lawn mowers.
In addition, the presence of several market players, such as Husqvarna Group, Echo, Toro, and Deere & Co., in the region drives the market growth. For instance, in April 2022, Echo launched a new line of battery-powered outdoor equipment for lawn care in this region.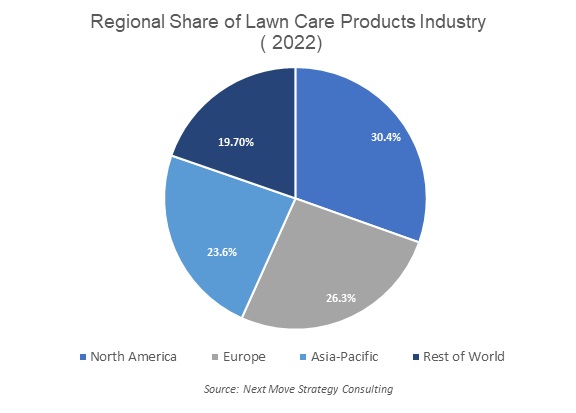 Major Providers of Lawn Care Products
The lawn care products market is highly fragmented, with over 150 manufacturers worldwide. Leading players are strengthening their positions by adopting various strategies, including new product releases, partnerships, collaboration, acquisitions, and business expansion.
Next Move Strategy Consulting recognizes at least five most prominent players in the lawn care products market. The major companies include Makita Corporation, Stanley Black and Decker, Inc., Toro Company, Husqvarna Group, Deere & Company, and Others.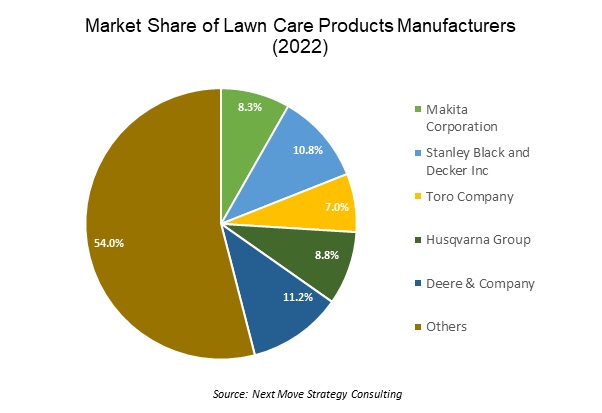 Recent Developments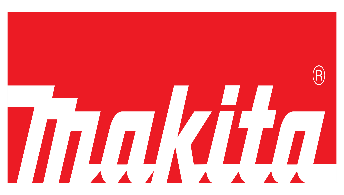 Makita Corporation is a Japanese multinational corporation that specializes in manufacturing power tools and other related products. Makita has a strong presence in the global market, with subsidiaries and sales offices in over 40 countries. In February 2022, Makita launched two new lawnmowers. Both models were powered by two 18V LXT 5.0Ah batteries, providing users with longer backup time as compared to gas equipment.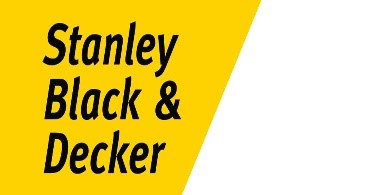 Stanley Black & Decker is a leading global manufacturer of hand and power tools, industrial equipment, and security products. The company's product line includes power tools, hand tools, and accessories. It also offers industrial equipment and solutions, such as fastening systems and engineered fasteners. In December 2021, Stanley Black and Decker acquired Excel Industries and MTD Holdings, Inc. This acquisition strengthened the company's position as the fastest-growing provider of cordless electric outdoor power equipment.
The Toro Company is a leading outdoor equipment manufacturer headquartered in Bloomington, Minnesota, the U.S. Toro's product line includes mowers, snow blowers, utility vehicles, and irrigation systems for residential, commercial, and golf course applications. In October 2022, Toro launched a new cutting-edge robotic mower. It comes with the smart and connected technology for homeowners and their yards.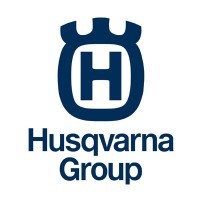 Husqvarna Group is a Swedish multinational company specializing in manufacturing outdoor power products, including robotic lawnmowers, chainsaws, trimmers, blowers, and more. Their products are designed for both commercial and residential use, and they offer a wide range of products for forestry, lawn, and garden care. In November 2022, Husqvarna Group launched Xcite zero-turn mower. This new lawn mower has the latest grass-cutting technology with a best-in-class suspension system.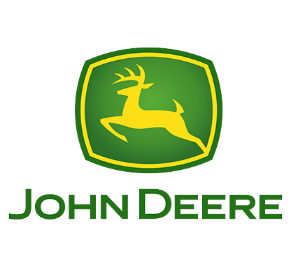 Deere & Company, commonly known as John Deere, is an American multinational corporation that is primarily known for manufacturing agricultural, construction, and forestry equipment. John Deere's product line includes a wide range of equipment, such as tractors, combines, balers, planters, excavators, skid steers, and others. They offer new and used equipment and spare parts for lawn care products. In February 2023, John Deere launched an electric zero-turn mower. This electric mower features a 3.2 kWh (3.56 kWh maximum) sealed lithium-ion battery that is capable of mowing up to two acres of land per charge.
Conclusion
It can be concluded that lawn care products play an important role in maintaining lawns and gardens. The trend of eco-friendly lawnmowers and sustainable products is increasing currently. Gas-powered lawnmowers are primarily available in the market as they are widely used by homeowners for benefits such as affordability and ease of use. Several market players are adopting strategies such as product launches and acquisitions to maintain their dominance in the lawn care products industry.
About the Author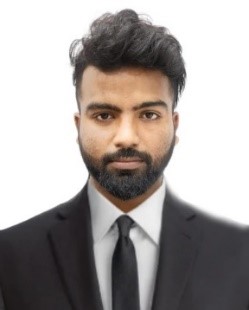 Kaushik Baul is a highly skilled and experienced researcher, with a passion for conducting thorough and accurate research. As a researcher, he is responsible for gathering, analyzing, and interpreting data, and helping his clients to deal with complex business challenges. With a bachelor's degree in science, he has a strong foundation in data analysis and synthesizing relevant information to support a wide range of projects. He is an avid reader and has a love for traveling and playing cricket. The author can be reached at: kaushik.baul@nextmsc.com
Share this post?